Tanzania – Africa
Dominant nickel licence portfolio within the East African Nickel Belt of Tanzania
Dedicated methodology and considered exploration program has generated numerous priority Ni target areas
Adavale is poised to uncover a large-scale Ni sulphide discovery with a drilling program now underway
Licenses are adjacent & along strike from the world's largest undeveloped high-grade Kabanga nickel sulphide deposit, 58Mt @ 2.62% Ni
Adavale holds 100% of the Kabanga Jirani Nickel Project Area located in Kagera, Tanzania.
Holds 8 granted licences plus 2 x "Luhuma" Farm-in licences contiguous to Adavale's Kabanga North East (totalling 1,267km2 – see table further below*).
Located along the Kabanga-Musongati mafic-ultramafic alignment within the Meso-Proterozoic Karagwe-Ankole Belt (age ~1350 to 1400Ma), prospective for Ni, Cu, Co, Cr and PGE's. Notable setting similarity with Thomson Nickel Belt, Raglan and Voisey's Bay deposits in Canada & IGO's Nova in the Albany-Fraser Belt in Western Australia
---
Gravity Surveys have identified 32 new Nickel Targets, providing a foundation for exploration success.
24,000 gravity readings over ~1,000 sq km generated a total of 32 newly discovered and unexplored gravity targets
The number and order of magnitude of the gravity targets generated has confirmed the prospectivity and large-scale nickel exploration potential of Adavale's licences within the globally significant East African Nickel Belt
Newly discovered priority targets cover ~55 km strike length that has become the focus of Adavale's exploration program and Heli-borne Electro Magnetic (HEM) survey
HEM survey has initially focused on 18 higher mGal amplitude anomalies of the 32 identified gravity targets
---
Heli Electro Magnetic Surveys – 9 HEM Target Areas
Multiple priority gravity targets identified for the initial Heli-borne Electro Magnetic (HEM) survey
9 HEM target areas were flown using deep penetrating (~500m) high powered time domain EM (TDEM) and magnetic survey equipment
Objective being to identify coincident areas of both strong EM and gravity targets~ conductors
Survey completed with ~2,100-line kms (210 sq kms) during August/September 2022
---
Prioritisation of HEM/Gravity Target Areas for Drilling
Initial processing of HEM and gravity data has been distilled down from 32 gravity targets to 20 gravity and EM target priority areas over all Adavale southern Licence holdings and farm-in areas
Target areas selection has been based on coincident Heli-borne Electro Magnetic (HEM), gravity anomalies and localised previous exploration
EM conductors identified will be tested with Reverse Circulation and Diamond Drilling campaigns now underway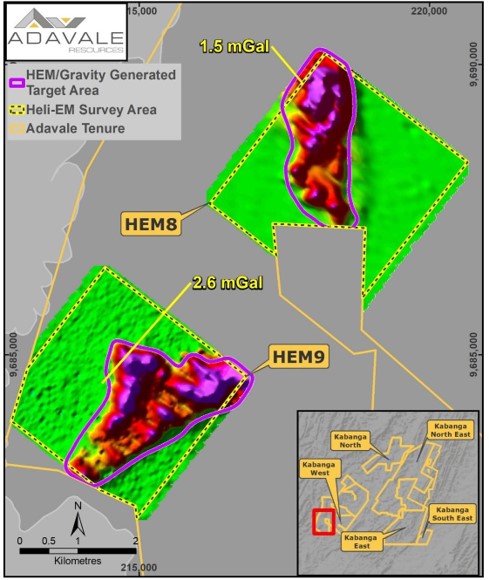 ---
*Kabanga Jirani Project (100% owned licenses)
| | | |
| --- | --- | --- |
| Ministry ID | Area (km2) | Project Location |
| PL 11406/2020 | 298.02 | Kabanga North East, Tanzania |
| PL 11405/2020 | 113.84 | Kabanga North, Tanzania |
| PL 11538/2021 | 64.08 | Burigi, Tanzania |
| PL 11537/2021 | 194.08 | Burigi North, Tanzania |
| PL 11591/2021 | 181.74 | Kabanga East, Tanzania |
| PL 11590/2021 | 273.27 | Kabanga West, Tanzania |
| PL 11592/2021 | 19.4 | Ruiza North East, Tanzania |
| PL 11886/2022 | 22.63 | Kabanga South East, Tanzania |
| Farm-in licences | | |
| PL 11692/2021 | 26.01 | "Luhuma" North |
| PL 11693/2021 | 72.88 | "Luhuma" South |
| Total | 1,267 | |
Adavale Resources Tenements